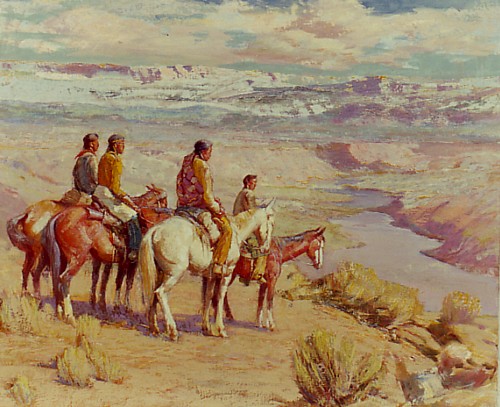 Oscar Berninghaus
(1874 - 1952)
"Riders on the Rio Grande"
Oil on canvas, 25 x 30 inches
SOLD
The Taos Art Colony
The Taos Art Colony is an art colony which began in 1898 with the visit of Bert Geer Phillips and Ernest Blumenschein to Taos, New Mexico. The Taos Artists' Colony was a groundbreaking association of European trained painters that collected around the visually spectacular Taos Pueblo in the North American southwest. The founding members fostered the emergence of a major school of American painting. For nearly a millennium, the Taos Indians have lived here. Ancient artistic traditions have been manifested in native crafts for generations; an important acknowledgement for understanding the inherent aesthetic allure of this area to the Euro-American artists.
In 1898, other such artists began flocking to Taos. Led by Ernest Blumenschein and Bert Phillips, American and European-born artists became entranced with the region's beauty. Along with Blumenschein and Phillips, Eanger Irving Couse, Herbert S. Dunton, Oscar Edmund Berninghaus, and Joseph Henry Sharp united to form the "Taos Society of Artists". These artists are considered the "Founding Six", or the founding fathers of the Taos Artist's Colony. The "Taos Six" applied academic technique to native themes to produce a uniquely American school of painting. Aside from the inspiration of their environment, one quality early Taos colony paintings share is their vibrant palette of colors - not a common sight when paired with more traditional representational images and application of paint. Today, these artists are recognized for their contribution to artistic development and their scenes of Taos locales grace the walls of many museums.